MEC Championship January 16-20th, 2018
Pro Am: Tuesday & Wednesday January 16-17th
Tournament: Thursday, Friday, Saturday January 18, 19, and 20th
Aloha From your 2018 Volunteer Chairs – Kris Hazard and Larry Webb
Aloha From your 2018 Volunteer Chairs
— Kris Hazard and Larry Webb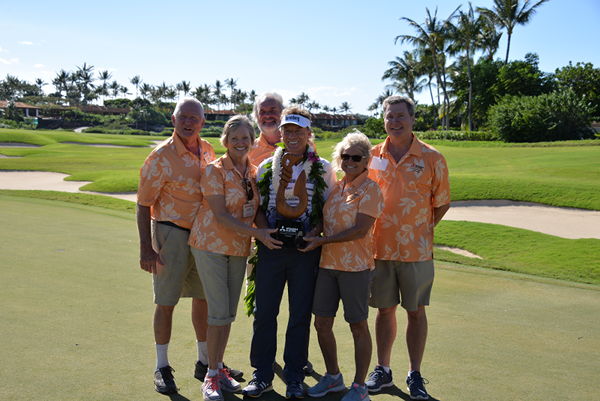 Please remember our unique Hualalai Tournament play days:
Pro-Am: Tuesday & Wednesday January 16th & 17th
Tournament: Thursday, Friday, Saturday January 18, 19, 20th
All future Hualalai Tournaments will be in this Tuesday thru Saturday format.
The Rotary Club of Kona once again extends our Mahalo to you for volunteering. It is through your Aloha Spirit and dedication to service that allows us to participate in this fantastic opening tournament for the PGA Tournament of Champions. Our combined efforts make.a difference in our community through the charitable donations by the PGA. Your volunteering is important to the community. A side benefit to all volunteers is the meeting and developing of friendships with other volunteers - memories to last a lifetime! Mahalo nui loa. See you in January!
In order to participate, please look for the yellow "Registration" bar below and click on it. Complete the entire form as indicated and click on the "submit" tab at the bottom of the form to send us your information. You will receive a confirmation email within several minutes detailing all data input. If you need to make changes, simply register again; we will use your most current registration.
Please use our online "Bulletin Board" banner at the top of the page to check for current information on your status, the golf privilege, Mahalo Party, uniforms, schedules and more!
We look forward to seeing you in January at Hualalai Resort Volunteer Village!
Aloha and Mahalo
Kris Hazard & Larry Webb
Volunteer Co-Chairs
Volunteer Registration for January 2018 is
OPEN
Volunteer Registration for January 2018 is OPEN
Complete all information below and
use the "Click To Volunteer" button at the bottom to submit registration.
For any questions please email or call Larry at 808-989-6336 or Kris at 808-895-1364.
The Management Philosophy
Management Philosophy
Our philosophy is quite simple, the management team exists to support the volunteers in the field and we all are a part of the volunteer "team." The first volunteer most of our guests will see are in Spectator and VIP Parking. Second most of our guests will encounter our volunteer teammates at the Spectator Village. And finally our guests will observe and encounter our volunteer teammates on the course who are working to support the participants. We want to work together so that all of the impressions of our volunteer team formed by our guests are positive. And we want subsequent impressions to reinforce that positive first impression.

Teammates support and back up one another. Teammates who identify problem areas or shortcomings give the team a chance to solve the situation.  They don't badmouth the team, because that would harm that positive impression we are trying to project. So during the tournament, if you see or experience something that isn't right  - be proactive and fix it or notify a teammate who can get help. We stress the team concept because, to be successful, it takes all of us "pulling together." If we do that, then all of us will be making a positive contribution to our success.
What all this means is you can expect those of us on management team to be working hard to support you. In return, we ask that you keep us informed, give us a chance to work problems out, and follow our guidance--and be sure to HAVE FUN along the way. Ultimately, we hope this experience will be both enjoyable and memorable for all of us.
BOTTOM LINE: Our number one goal for all of us who are volunteering is to wear a big smile and spread the spirit of aloha to our guests, the participants, and our fellow volunteers. If we can accomplish that, it will overwhelm any of the little bumps in the road that we all know from experience are coming our way.
Mahalo Volunteers
Did you know that by volunteering at the Mitsubishi Electric Championship at Hualalai, you are helping to better the community?
The Rotary Club of Kona has partnered with the MEC at Hualalai to find, register and place over 400 volunteers for the golf tournament. All of this work, which is a lot, is done by Rotarian and non-Rotarian volunteers.
The PGA Seniors Tour makes a very generous donation to the Rotary Club of Kona each year for its efforts. This money is used for community service projects and scholarships by the Rotary Club of Kona.
In 2011, the Rotary Club of Kona used this money for:
"Keiki Vision" - a vision testing program for all 3rd graders at Kahakai, Holualoa, Kealakehe, Kona Christian Academy, Hualalai Academy and Waikoloa elementary schools.
Scholarships for Kona teens pursuing higher education
School supplies for a local pre-school
Grants to various community service providers and projects
Tell me more about Rotary
There are over 1.2 million Rotarians in the world and over 30,000 Rotary clubs. It is the world's largest service organization, with each club committed to community-based service projects. Rotary International has been very active, with substantial assistance from the Bill and Melinda Gates Foundation, in the fight to eradicate Polio. With only a few countries left with Polio, winning this battle will make Polio only the second disease to ever be wiped out (small pox is the other).
In the Kona community, the Rotary Club of Kona has been active in many local and international projects. These include giving a significant amount of funds and volunteers for Habitat for Humanity's Blitz Build, 10 fundraisers for local non-profits as part of Project Compassion each year, volunteering for the Kona Christmas and Fourth of July Parades, vision testing for all 3rd graders North Kona and giving donations of time and money for many other community-based projects.
Who are the members of the Rotary Club of Kona?
The members of the Rotary of Club of Kona live in West Hawaii and have a commitment to community service. Some are retired and others are in the midst of their careers. Community service and a vision for making the world a better place is what they all share.
They meet weekly at the Marriot Courtyard King Kamehameha Kona Beach Hotel for lunch and a program, which usually includes a speaker from government, non-profits or businesses.
If you would like to learn more about the Rotary Club of Kona, talk to any of the Rotarians helping to put on the MEC at Hualalai golf tournament. You can also visit our club website here.
Championship at Hualalai
Autograph & Camera Policy
for Volunteers & Spectators
Guidelines for our volunteers and for spectators regarding autographs, photographs and cameras as follows:
1. During the Pro-Am, on Wednesday and Thursday, the Champions Tour players are fair game for polite requests for autographs or photographs. Please limit your request to one autograph or photograph per player—i.e. please do not request the pro sign multiple items or pose for multiple photos. And please do not request an autograph or photo from a player if you got one previously. Please give others a chance to get their first one. Spectators may take photographs and solicit autographs on the course during the Pro-Am.
2. During the tournament, on Friday, Saturday and Sunday, we expect all of our volunteers to please refrain from requesting any autographs or taking any photographs, with the only exception being the area behind the Scoring Tent at the 18th green at the conclusion of play—i.e. the practice range, the putting green and anywhere on-course are off limits.
3. Spectators are not allowed to take photographs on the course during the tournament on Friday, Saturday and Sunday. Any volunteer observing a spectator taking photos of the action on-course on Friday, Saturday and Sunday is expected to advise the violator of the PGA's no photography policy and ask them to please put their camera away for the rest of the tournament. If the spectator refuses, try to identify them to a PGA official and let them handle it. Spectators may request autographs during the tournament provided they are not abusing the opportunity and annoying the players—in which case our volunteers should tactfully intervene.
These policies should allow ample opportunities for everyone to obtain autographs and photographs, but within reason, and at the appropriate time and place.
Mahalo
Site Navigation
The left side bar links are primarily used for information that will change often or information you may wish to print or view often.
The bars in the center of the page (like the bar you are viewing right now) are for information that will remain fairly static.
For links that lead to printable documents (mainly Adobe Acrobat PDF files), will open in a new window for that document. You may resize that window if you wish. When you are finished viewing/printing the document, just close that window rather than using your browsers back arrow as you had to do on the old site.
To view the PDF files you will need to have Adobe Acrobat Reader installed. If you need the Reader, please follow the logo link below to download and install it. It's free and quick to install.