MEC Championship January 16-20th, 2018
Pro Am: Tuesday & Wednesday January 16-17th
Tournament: Thursday, Friday, Saturday January 18, 19, and 20th
2018 PGA change for Pro Am.

Closed Course - Tuesday and Wednesday
No Spectators - Tuesday and Wednesday
If you have already signed up to Marshal, work Spectator Parking or Spectator Village ( ticket sales bus greeting etc) , please send an email right away to Other duties are still functional and need to be filled for all 5 days. Mahalo for your enthusiastic embrace of new adventures!!
Aloha From your 2018 Volunteer Chairs – Kris Hazard and Larry Webb
Aloha From your 2018 Volunteer Chairs
— Kris Hazard and Larry Webb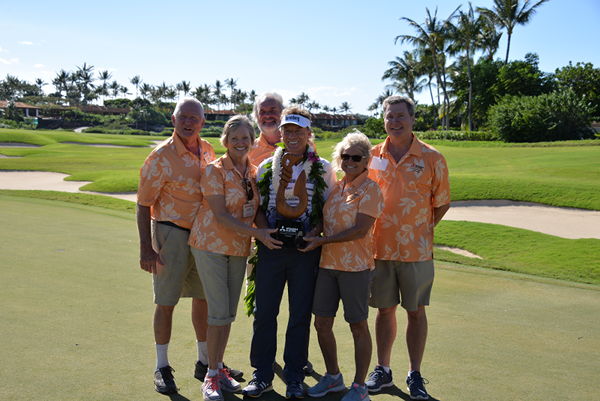 Please remember our unique Hualalai Tournament play days:
Pro-Am: Tuesday & Wednesday January 16th & 17th
Tournament: Thursday, Friday, Saturday January 18, 19, 20th
All future Hualalai Tournaments will be in this Tuesday thru Saturday format.
The Rotary Club of Kona once again extends our Mahalo to you for volunteering. It is through your Aloha Spirit and dedication to service that allows us to participate in this fantastic opening tournament for the PGA Tournament of Champions. Our combined efforts make.a difference in our community through the charitable donations by the PGA. Your volunteering is important to the community. A side benefit to all volunteers is the meeting and developing of friendships with other volunteers - memories to last a lifetime! Mahalo nui loa. See you in January!
In order to participate, please look for the yellow "Registration" bar below and click on it. Complete the entire form as indicated and click on the "submit" tab at the bottom of the form to send us your information. You will receive a confirmation email within several minutes detailing all data input. If you need to make changes, simply register again; we will use your most current registration.
Please use our online "Bulletin Board" banner at the top of the page to check for current information on your status, the golf privilege, Mahalo Party, uniforms, schedules and more!
We look forward to seeing you in January at Hualalai Resort Volunteer Village!
Aloha and Mahalo
Kris Hazard & Larry Webb
Volunteer Co-Chairs
Volunteer Registration for January 2018 is
CLOSED
The Management Philosophy