MEC Championship January 15-19th, 2019
Pro Am: Tuesday & Wednesday January 15-16th
PGA Tournament: Thursday, Friday and Saturday January 17, 18, and 19th
Please Note Format
CLOSED COURSE / NO SPECTATORS
for Pro-Am Dates
(Volunteers needed for Marshals on these 2 days is a very limited number ; all other positions will be filled as usual)
SATURDAY FINISH FOR TOURNAMENT Full Volunteer numbers including on course Marshal Volunteers will be needed for the Tournament Days.
Aloha From your 2019 Volunteer Chairs – Kris Hazard and Larry Webb
Aloha From your 2019 Volunteer Chairs
— Kris Hazard and Larry Webb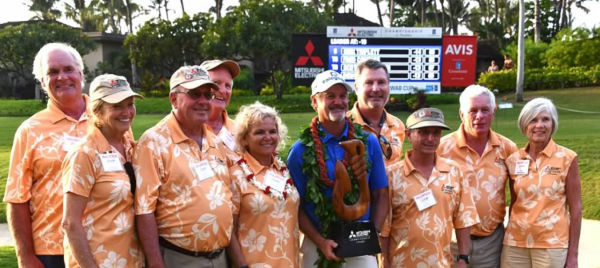 Mitsubishi Electric Champions Tournament at Hualalai
January 15th through January 19th 2019
Welcome from the Rotary Club of Kona. Your participation and Aloha Spirit are the foundations of the ongoing success of this event. Your dedication, service and true Aloha Spirit exhibited over the past years, have earned kudos from Professional Players, Hualalai Staff, and the President of the PGA. Job well done !
As the "Rock Stars of the Volunteer Core" you have helped earn close to 1 Million Dollars for the community of Hawaii Island. Through Scholarships, Vision Testing in 3rd Grade classes; Disaster Assistance and more; your participation has made lasting contributions to the Community and the People of the Big Island of Hawaii. Mahalo nui loa for all you do!
To Register: Please click on the Blue Registration Button Below and fill out all the required fields. After reviewing for accuracy, please click the submit button. You will receive a confirmation of your registration request. Please review, if changes needed simply register. We will use the most recent one.
Special Note regarding UNIFORMS. We are using the fabulous Orange Crush Volunteer Shirts for 2019. You may use your shirt from last year unless you wish to order a new one. Pants are either Kahaki or Black , golf appropriate length required. Head gear, only approved PGA hats and visors on course. We are not changing the style or color of those from last 2018.
With Aloha and our Sincere Mahalo
Larry Webb and Kris Hazard
Volunteer Co-Chairs
Volunteer Registration for January 2019 is
OPEN
The Management Philosophy